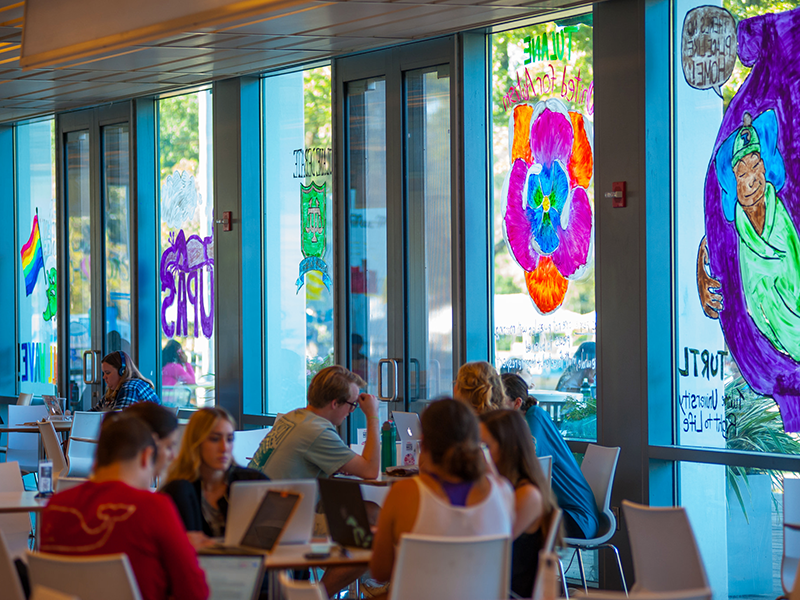 Interested in joining a Recognized Student Organization at Tulane? Click here to check out the full list of organizations.
Interested in starting a Recognized Student Organization at Tulane? Visit startastudentorg.tulane.edu to get details on the application and chartering process.
More information coming soon!
Are you an advisor of a Recognized Student Organization at Tulane? Check out adviseastudentorg.tulane.edu for details on advising, new advisor checklist, advisor meetings, and more.
The Student Organization Center (SOC) is a space where all Recognized Student Organizations (RSOs) can meet, utilize various resources, and is a welcoming space where students can come hang out. RSOs can utilize the space for smaller meetings, poster making for tabling events or marketing purposes, button making, printing/copying of materials, locker storage, and receiving packages. If you want to learn more, scroll below for a specific list of resources we provide.
Location:
The SOC is located in the Garden Level (basement) of the Lavin-Bernick Center (G11).

Hours:
Monday- Friday: 8:30am-5:30pm
After Hours and Weekends: 5:30-10:00pm (Monday-Friday); 9:00am-10:00pm (Saturday & Sunday)
Please note after hours and weekend access is by-request only. RSOs can request access for up to 2 members per organization by completing this form. Please note, only 2 members per Recognized Student Organization, will be given access.
Limited resources available during after hours and weekend times
Services Provided
Meeting Space: Open table spaces available smaller meetings (i.e. 2-10 participants)
Poster Making: poster paper, paint and ink markers, construction paper
Chalk Rental: Want to chalk on McAlister? Stop by the SOC to get all the chalk you need!
Button Making: Stop by the SOC Front Desk to reserve the button maker and represent your student organization on campus!
Printing/Copying: 50 copies a day per student organization
Locker/Back Storage Closet Storage: Student Organizations can store small items in lockers or larger items in the back closet for use throughout the year. Interested in locker/storage space? Only a few spots available, follow this form to request storage space in the SOC.
Package Receiving: Did you order items for an upcoming event? They will be delivered to the SOC and your organization will be notified when it arrives!
The RSO Handbook is your comprehensive guide to student organization resources, policies, and procedures. Check out studentorghandbook.tulane.edu for this year's handbook.